Name: Ivanka
Tel: +86-0755-27162697
E-mail: info@qidascooter.com
Add: Gongming Town Guangming New District, Shenzhen 518017, P.R.China


Product name : Self Balance Scooter Black

Product No. : QD-S601
Details:
The Self Balance Scooter is an intelligent personal transporter, also called smart skateboard, balance board…
It is a New innavation technology mobility device that transformation comes in the form of electric bicycles, skateboards and scooters.
The self balance scooter is powered by lithium battery, and use self balance control system, it lacks handlebars and any sort of steering contraption, its moves based instead on subtle pressure from your feet and body, the two wheels will go to the direction you want.
More easily to learn and bring much fun element for kids and adults, riding the self balance scooter to change your way of move, travel, see and more connect with the world.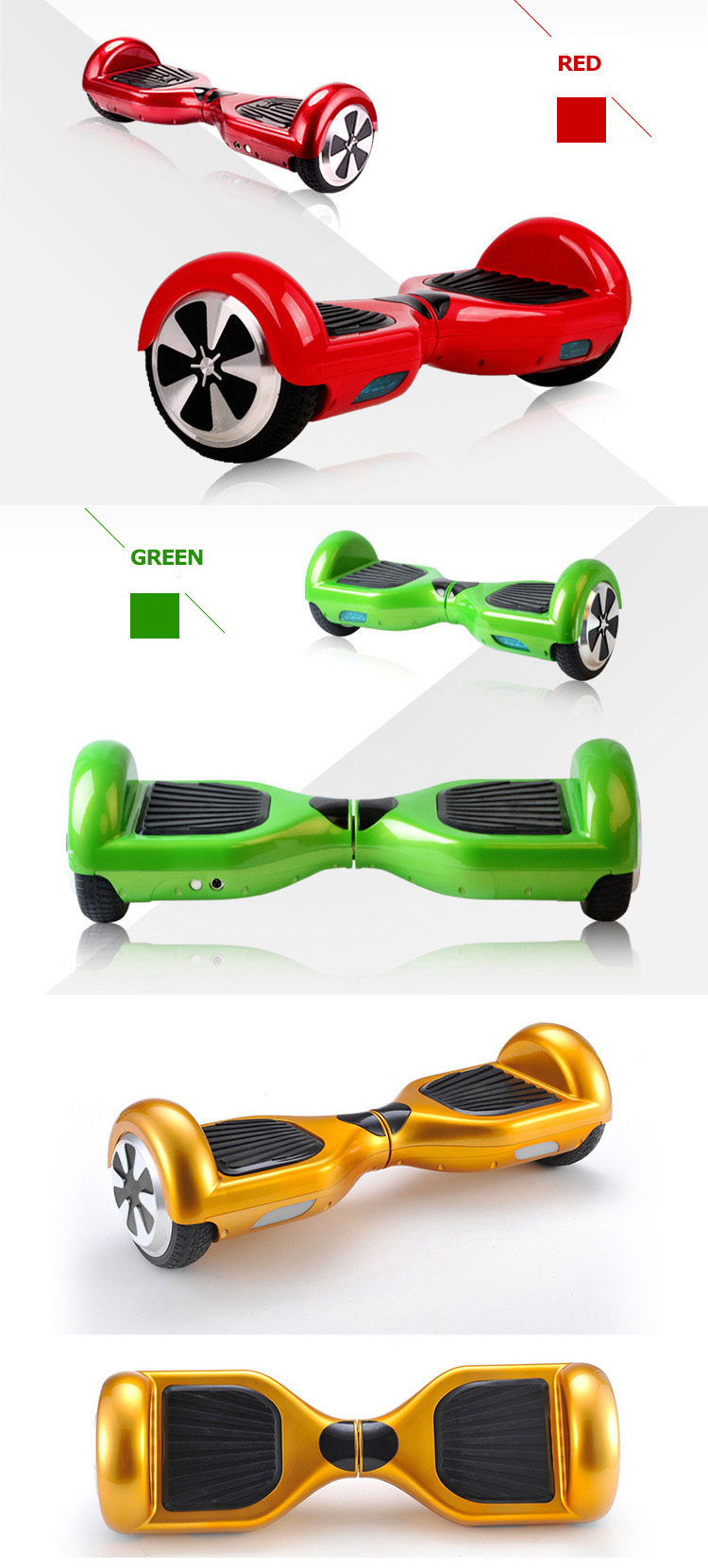 Specification:
Li-ion Battery: 36V Samsung/LG 18650 Lithium Battery 4400mah
Max Load: 100KG
Max Speed: 10km/H
Max Range: 15-20KM
Max Climbing: 20°
Min Turning Radius: 0°
Motor Power: 350w*2
Charging Time: 1-2H
Charging Requirements: 100-240V/50-60HZ
Tire: 170mm Non-pneumatic Hollow Tire
Color: black,white,blue,yellow,pink, red
System: Body Self Balance Control Scooter board

Features:
l Portable, easy to learn and ride scooter.
l Release your two hands mini vehicle.
l Your body self balance control personal transporter.
l Brush motor intellegent mobility device.
l Innovative design with LED lights.
l Balancing system control two wheels forward ,backward and turning.
l OEM services are provided

Application:
1. Both for Adults and Children to play games.
2. Ride at home, cut across country lane easily.
3. Dancing with self balance scooter on a show.
4. Riding to transport the big hand buggy in the fair.
5. Riding in the supermarket or park.
6. Riding out of the garage after parking your car or motorcycle.
7. Connect with mobile and camera to take photos.
8. Amusement, transporter and sport device.

How to ride a self balance scooter
1. Power the self balance scooter
2. Two fingers put on the each side of the board to make sure self balance already.
3. One foot put onto one side of the board slightly without presure or any weight.
4. The other foot fastly ride onto the other side of the board.
5. Relax and keep two feets weight balance, then you will be standing on the board successfully.
6. lean your body to control the direction of the balance scooter, you will rolling forward or backward or rotation. Please body movement don't be too much.
7. Get off the balance scooter when the scooter is stop moving and be balance status, one leg off the board and the other one off quickly.
Caution:
1. Please get off the balance scooter from the back side.
2. Please don't turn charply when you are riding fast speed.
3. Please don't turn or rotate the two side boards when on a slope.
4. Please don't let kids to play the scooter without any adults protection.
Materials:
1. Import Samsung/LG lithium battery
Our self balance scooter use samsung battery, it can rechargeable at least 1800 times, and has a long life time, 3.8 times longer than common battery, much more safe.
2. Motor
Brushless DC motor, small sound, easy to operate, simple construction, easy to maintanance.
3. Balance system control board.
4. Cabinet
The self balance scooter cabinet and shape make it like a skateboard.